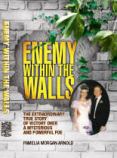 Enemy Within The Walls - Pamelia Morgan Arnold
This compelling story is an effective, yet subtle, way to explain to your client the dangers associated with mold and the frustrations they could experience if they take the traditional route of 'searching for answers'.
EnzyMagic201 (20:1 Concentrate) Quart (32oz)
EnzyMagic 201™ is a concentrated enzymatic product specifically formulated for the cleaning of all surfaces. It uses enzyme action to penetrate and lift the contaminants from the surface permitting them to be rinsed away leaving a residue-free finish. It is easy and safe to use.
EnzyMagic201/BacShield Combo Pack
Best Living Systems always recommends a 2 step process when killing or removing mold, mildew, dirt, or other surface contaminants. Clean & Protect. This combo pack combines 2 of our most popular products (EnzyMagic201 & BacShield) to deliver a powerful 2 step cleaning and coating process to any job. Each product will produce over 2.5 ready-to-use gallons, a perfect combination for small jobs! Buy them together in this package and save!